Exterior Painters Brisbane
Experienced and professional painters for all external residential external work
Making an exterior painting job last requires skill, expertise and quality products. AR Painting Solutions has this in spades, ready to make the outside of your home look amazing.
Experienced in all exterior house painting
For many years, we have been transforming and touching up outdoor surfaces all over Brisbane. No matter the surface, we have the experience to get the best results. Different finishes need different techniques, and you can be sure that our expert team know how to assess the area and determine the best approach.
Surfaces we've painted include (but aren't limited to):
External doors
Exterior walls
Gutters
Awnings
Roofs
Window frames
Window shutters
Exterior flooring
Stairs and steps
Balconies, including balustrades
Garage doors
Just ask us about any external surface or area you want to be painted at your home – we're happy to work out the best solution for your needs.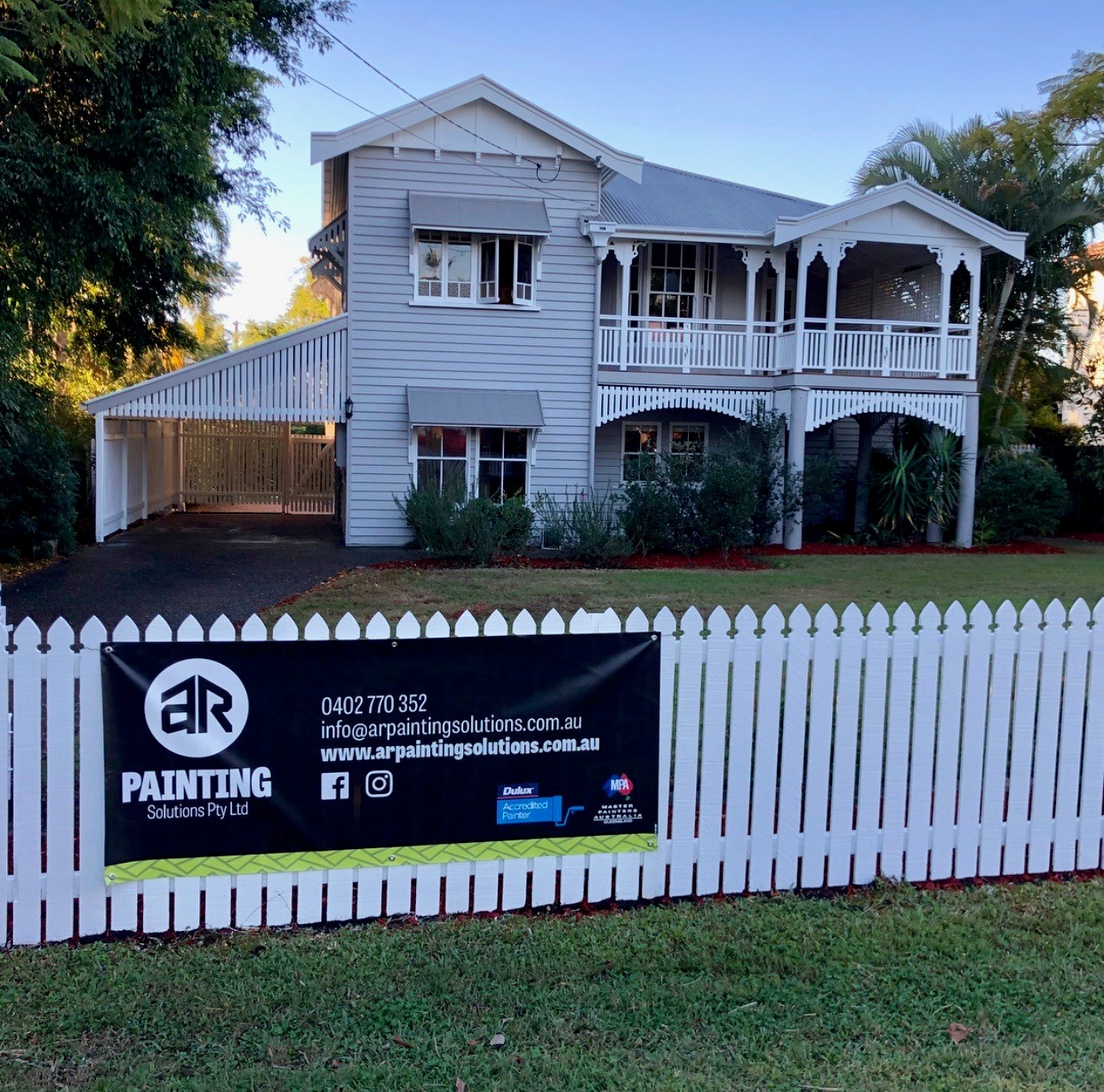 Harsh Queensland weather is no match for our top-quality paints and finishes
When exterior painting isn't done properly, and inferior products are used, time, money and effort are wasted. Unlike the inside of your home, the external areas are subject to much tougher conditions. Poor quality products fade and become brittle after a short time in the sun, chipping, flaking and quickly losing their visual appeal. Then you're having to repaint before you know it.
Dirt, dust, UV rays – we use only first-rate weather-resistant products that last in the Queensland climate. After thoroughly cleaning and preparing your external surface, to ensure longevity and the best paint job possible, we get to work on improving the look of your home's exterior.
Whether you want your verandah railing, roof, or the whole of your home's exterior painted a brand new colour or just spruced up, we're the ones to call.
Experienced in restoring timber decking, Queenslanders and other detailed work
When you don't maintain your deck properly, it needs to be sanded back to bare, given a high-pressure wash and recoated. AR Painting Solutions will bring your deck back to life and can organise a regular maintenance plan to ensure it's well looked after for years to come.
We are experts in restoring Queenslanders, using the proper care and techniques to make them look great again. If you would like something special – Venetian Plaster, Rockcote coatings or other specialised finishes, we have staff who are accredited in these coatings.
When you need detailed painting work completed outside of your home, you can count on the team at AR Painting Solutions.
Brisbane's master exterior painters
Our team of fully trained and certified painters are the reason why we've been in business for so long. Our quality work speaks for itself, but it's our customer service that really stands out.
We recommend the best products for your specific needs, taking into account your location, the weather, the level of foot traffic – anything that will affect the type of paint and finish you need.
We don't push products for our bottom line; you can rest assured that we recommend what's going to last – and that it looks great while doing so.
At AR Painting Solutions, we are Dulux accredited and members of Master Painters Queensland, so you know you're working with the best of the best. While we prefer using Dulux for its reliability and durability, we work with any product you request.
We are also aligned with Energex, which allows us to safely complete work near power lines that other painting companies can't.
Get in touch with the team today to organise a quote on your painting requirements, and see how AR Painting Solutions can improve the visual appeal of your home's exterior.